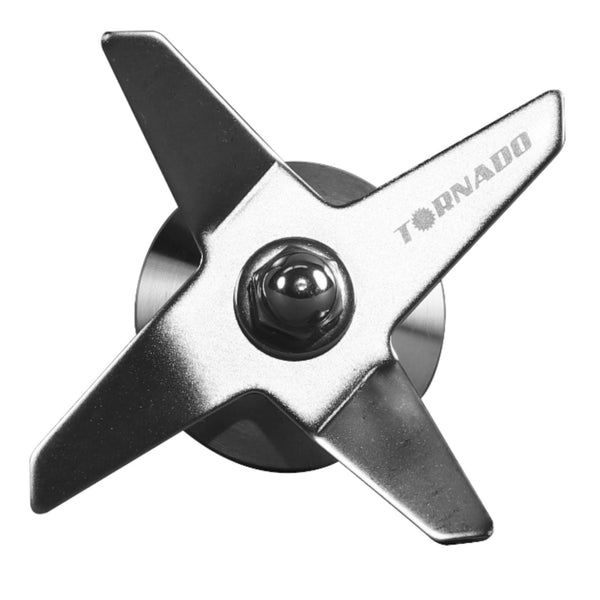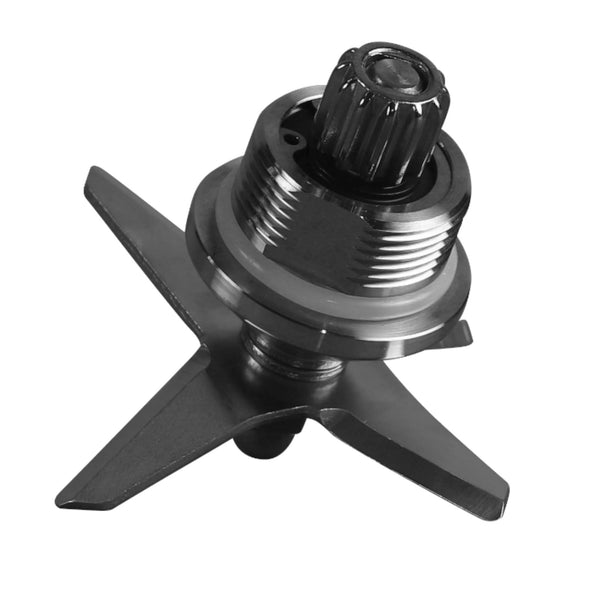 TORNADO Blender Replacement Blade Assembly
Sale price Price $ 19 Regular price
This Replacement Blade Assembly is intended to be installed if the current assembly in your TORNADO Blender starts to wear out.
The installation of this Blade Assembly is easy to do. No special skills required! It will take you less than 5 minutes to replace your worn out assembly with the new one.
You will also receive the special tool that is required to do this job.
Our blade is made of hardened stainless-steel. The blade-assembly is equipped with two superior high-quality bearings. These bearings are double-sealed for the longest possible lifetime.
Please note that a worn out Blade Assembly is covered under our Full Warranty. So if you are experiencing problems and your TORNADO Blender is still under Warranty, please contact us so that we can arrange a replacement for you.
Should your Warranty be expired, this Replacement Part is a cost effective solution to fix your defective container.  We also offer a complete Replacement Blender Container as an additional option.
My 2 cents:     The bearings in our blender are wearing parts (similar to the brake pads on your car for example) - and replacement of the Blade Assembly is to be expected at some point in the blender's lifetime.
And just like your car's brake pads, the lifetime of the bearings in the blade assembly greatly depends on how much they are being used.
The same applies for my 5200 Vitamix blender by the way. To give you a reference: In the past, when I used my Vitamix daily and sometimes several times a day for some pretty heavy-duty blending, the blade assembly started to leak and needed to be replaced roughly every 2 years.
At the very least, you can expect the same lifetime of our blade assembly. But again: The lifetime of the bearings greatly depends on the use of the blender. And if you are using your TORNADO only a couple of times a week for some light-duty jobs, you might never have to replace the blade assembly at all.
Please feel free to reach out to me should you have any questions or concerns!
Best wishes, Ingo
This product ships for free via USPS First Class Mail.
What you get with this purchase:
1 blade assembly; one installation tool;
Please also see our Frequently Asked Questions (FAQ) to find some additional information. 
I choose tornado because the name tells of its product am satisfied with my blender and will honestly give it a 5 star rating
Licuadora TORNADO - Licuadora de Alto Rendimiento de Grado Profesional
Missouri customer
I have wanted a really good quality blender, soomthie moaker, nut butter blender but witches cost, I wanted a good investment. I just happened to stumble across the Tornado. It wasn't as expensive as the Blendtex, Ninga, Vita Mixer, for the quality, AND! It's American made. It works great, so I'm very happy I waited and kept looking to finally buy.
Best
I love this blender better than my former ninja blender. Less noise.
Very efficient and powerful blender. Durable and the price is right.
Great Product
I was skeptical because I have owned a vitamix but I am glad I purchased this tornado blender. It's everything it claims and the price was fantastic:)
Very satisfied
Am satisfied with the products I purchased , am very happy to tell my friends and family about them looking forward for more purchases.
Hello Lillian!
Thank you very much for taking the time to write your review! We're very happy to hear that you're satisfied with your blender and the additional container that you ordered. And thank you very much for spreading the word!
You left a 1-Star rating, hopefully this was just by accident.
Should you actually not be happy for whatever reason, please let us know and we'll help you with anything you may need.
Should you want to update your star-rating, please go back into your review and click 'update review'. But you can also just leave it as is, it's honestly no big deal.
We don't have access to the star-ratings and the content of the reviews, so we won't be able to update this for you.
Thank you very much again, and best wishes!
Best blender yet!
We have a Vitamix & Blendtec, & this is FAR better than both of them!
Replacement parts
Tornado customer service was amazing, they made sure my replacement parts were the exact ones I needed. They also made sure I would receive my package as soon as possible
best blender ever , i love it , cant wait to get the stainless steel container !